AMLIFE Kids Size Face Masks Youth Children Boys Girls Youth Filter Mask Made in USA Imported Fabric
AMLIFE Kids Size Face Masks Youth Children Boys Girls Youth Filter Mask Made in USA Imported Fabric
Product Description
AMLIFE Kids Size Face Masks Youth Children Boys Girls Youth Filter Mask Made in USA Imported Fabric
Daily Wear Face Covering Masks for School, Outdoors, Play
FEATURES:
Brand: AMLIFE
Made in USA of Imported Fabric
Manufactured in California
Convenient zipper bag for easy storage
Size: Kids (age 4 and up)
Color: Blue
High Quality, Soft, Comfortable
Easy to breathe through a protective filter for mouth and nose
MATERIALS:
FILTER: Polypropylene Meltblown Filter Layer
INNER: Polypropylene Non-woven fabric, skin permeability
OUTER: Polypropylene Non-woven fabric barrier
Comfortable Ear Loop (elastic)
Nose Bridge Strip - Adjustable and flexible with face contour for fit
Skin Friendly
USES:
Single-Use 
Suitable for: school, shopping, outdoors
Keep a pack handy in your bag or glove compartment for on the go with kids
Follow official guidelines and recommendations for face coverings in the community spread by asymptomatic persons.
FAST SHIPPING:
Ships from Los Angeles same business day (orders before 2pm) with valid tracking
#StaySafe #BuyAmerican
convenient zip lock bag packaging
Keep a pack in your car or bag, handy to have around.
» Kids size (age 4 and up)
» Blue Color, High Quality, Soft, Comfortable
» Easy to Breathe Through
» Comfortable Ear Loops
» A flexible Nose Clip - Adjustable with Face Contour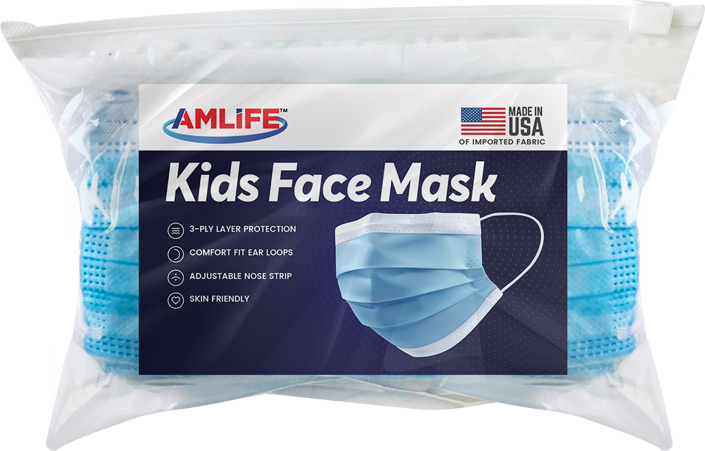 kids size ages 4 & above
MADE IN CALIFORNIA-2
SHIPS FROM LOS ANGELES
EVERY AMERICAN MUST HAVE ACCESS TO A FACE MASK We believe that everyone should wear face masks in public places to help protect themselves and others from airborne illnesses. We are ready to distribute a near unlimited amount of premium reusable face masks from our safe and sanitary Florida facility. Every order is shipped within 1 business day and our masks are processed quickly, so you'll never be waiting long.
HOW TO WEAR
It is extremely important to use your mask correctly!
1) Wash hands before putting on a mask. Skin must be dry.
2) Open the mask and place the white surface against the face and bridge of the nose.
3) Hang the ear loop on each ear with even force. Be careful not to snap off the ear loops.
4) Adjust the size of the mask by unfolding up and down so that the nose and mouth are completely covered.
5) Adjust the nose strip of the mask by pressing in the center of nose so that the nose and mouth are completely covered.
Customer Reviews
See what people have to say about the mask!
suitable for every day use
"STAY SAFE - STAY HEALTHY"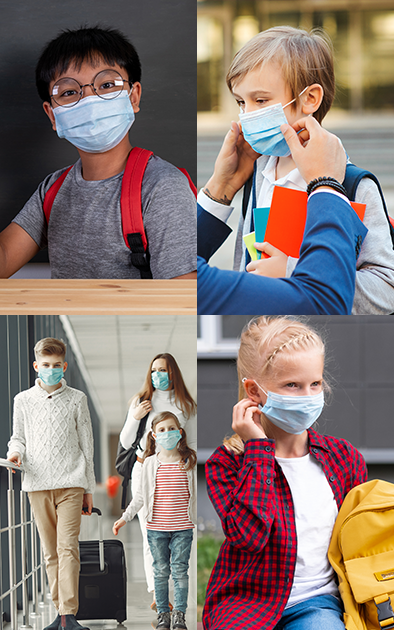 Disclaimer
Non medical face masks can help reduce the risk of contracting airborne illnesses.
Our non-medical cloth face masks are not FDA approved. We make no medical claims with regard to their usage. As with all health decisions, please consult with your trusted medical professional to determine compatibility with your personal situation if you are seeking a cloth face mask to wear in relation to medical issues.
Contact us
American Owned and Operated Orders shipped from our warehouse
© 2023 AMLIFE™ | All Rights Reserved.
All logos, trademarks & registered trademarks are the property of their respective owners.
Choosing a selection results in a full page refresh.
Press the space key then arrow keys to make a selection.